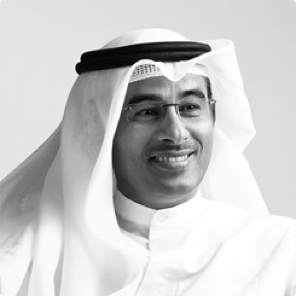 H.E. Mohamed Ali Rashed Alabbar
Mohamed Ali Alabbar
Founder & Managing Director of Emaar Properties, Founder & Director of Noon.com Chairman of Eagle Hills, Chairman of Americana Group.
Mr. Mohamed Ali Rashed Alabbar is a global entrepreneur with active interests in real estate, retail, hospitality, e-commerce, technology, logistics, F&B and venture capital.
Experience
Since 1997, he has been at the forefront of global real estate, leading marquee real-estate development companies such as Emaar Properties (developer of world's tallest building) and Eagle Hills (leading emerging markets real estate developer). He has spearheaded the growth of Emaar Properties attaining unmatched track record of successfully developing iconic futuristic residential, retail, entertainment, hospitality & leisure assets transforming the lifestyles of people globally. Over the years he has developed world-class mixed used projects, including his retail businesses, across 20+ markets of Middle East, North & Sub Saharan Africa, Central & Eastern Europe and South & South East Asia and US.
Business Acumen
In addition, he has driven the growth of several regional players into world-renown sector champions including Americana Group (a multibillion-dollar food business, the largest integrated food company in the Middle East) and noon.com (the leading e-commerce platform in the region). He is also shareholder in Artstreet Limited which owns interests in real estate business. He is the Chairman of Zand, one of the world's first combined digital corporate and retail bank to launch from the UAE.
Education
A graduate in Finance and Business Administration from the Seattle University in the US, also holds an Honorary Doctorate from Seattle University, an Honorary Doctorate from London School of Economics and Political Science and an Honorary Doctorate from Sun Moon University in South Korea.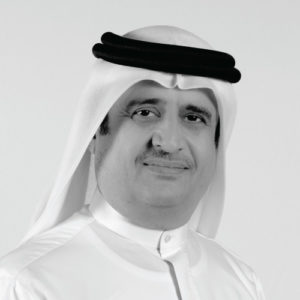 Mr. Jamal Majed Khalfan Bin Thaniah
Mr Jamal Bin Thaniah, born in 1958, holds a bachelor's degree in Public management.
Mr Bin Thaniah joined Port Rashid in October 1981 and progressed through the management until May 1991 when the Dubai government merged port Rashid with Jebel Ali port under Dubai Ports Authority (DPA). He has been appointed as Assistant Managing Director.
In 1999, one of the first initiatives of Mr Thaniah and DPA chairman in the international port operation market encompassing Beirut, Djibouti and Jeddah led to the creation of Dubai Ports International (DPI).
In 2001 he was appointed as a Managing Director to masterplan the development of Jebel Ali as one of the biggest terminals in the world, increasing its capacity from 20 million TEUs at that time to 50 million TEUs.
In 2004, Bin Thaniah played a significant role in acquiring Sealand world terminals to give DPI a real international footprint.
Jamal Majid Bin Thaniah is the Co-Founder of DP World, the 4th largest port operator in the world with a capacity of 100 Million TEUs in the year 2006; DPI concluded the acquisition of P&O Ports to become the 3rd largest port operator in the world and DPW was created to become a real international port operator company worth USD 22 billion.
In 2006 Bin Thaniah was appointed a Vice-Chairman and GCEO of Ports & Freezone world, including DP World, Freezone world and P&O Ferries, until his retirement in January 2017.
In 2008, following the global crisis, Bin Thaniah led the restructuring of Dubai World, a conglomerate in the real estate (Nakheel), private equity (Istithmar) and Dry dock world.
Since 2012, Mr Ben Thaniah has sat as an independent member on the board of Directors of Emaar Dubai and has previously served as a board member in different entities.
In Sep 2017, Mr Bin Thaniah was elected as a non‐executive board member of Emaar the Economic City. Mr Bin Thaniah is a regular speaker in the international ports and maritime conferences and is amongst few who won 3 prestigious international awards:
In 2006 he won Lloyds list personality of the year,
In 2007 he won the personality of the year by Sea trade,
In 2010 he won the highest lifetime award by sea trade '' the lifetime achievement award''.
He is well respected by all major international ports operators and the shipping lines with extensive knowledge about developing large scale port operations and logistic zone, including the business knowledge process in the shipping line routes and rotations.
Mr. Ahmed Jamal Hassan Jawa
Chairman, President & CEO, Starling Holding Limited
Mr Ahmed Jawa embodies the Middle East's success story. As Chairman, President & Chief Executive Officer of Starling Holding Limited, Mr Jawa has continually set business and entrepreneurial excellence standards.
The renowned Saudi Arabian entrepreneur established Starling Holding, an international investment group dedicated to private equity and venture capital, just after graduating from college, when private equity was in its infancy in the Middle East region.
Mr Jawa's impeccable corporate expertise in oil and gas, healthcare, hospitality, home entertainment, and real estate development helped grow Starling Holding into a global investment leader, with business interests in the Middle East, Europe, USA, North Africa, and South Asia.
His business acumen was recognised in 1996, at the highest level, when he was honoured as one of the 'Global Leaders of Tomorrow' at the World Economic Forum in Davos, Switzerland.
Mr Jawa's expertise and entrepreneurial skills have made him a trusted advisor for global companies that operate in the Middle East.
He is the Vice-Chairman of Emaar Properties, the developer of global icons including Burj Khalifa and Downtown Dubai, and Chairman of its Emaar Properties' Investment Committee and Risk Committee.
He is also a member of its Audit Committee, offering advice on Emaar's global expansion plans.
Mr Jawa is also a Board Member of Emaar Development, the leading developer of residential and commercial build-to-sell assets in the UAE, and a member of its Investment Committee and Nomination & Remuneration Committee.
Mr Jawa is Chairman of Emaar Middle East (KSA), developer of high-value projects in Saudi Arabia.
In addition, Mr Jawa is the Chairman of Emaar Turkey and serves on Emaar Misr's board in Egypt. He is also the Chairman of its Audit Committee and a member of its Investment Committee.
He is on the Board of RAK Petroleum, an Oslo Børs-listed oil and gas investment company and serves as the Chairman of its Audit Committee.
Mr Jawa is also on the Board of National Pipe Company Ltd (NPC), a joint-venture between Saudi-based enterprises and Sumitomo Corporation Group of Japan that manufactures and supplies quality pipes for the oil, gas, water and construction services.
He is a former member of the Board of 'Emaar, The Economic City' and its Nomination & Remuneration Committee. A public joint-stock company listed on the Saudi Stock Exchange (Tadawul), 'Emaar, The Economic City is undertaking the modernisation and execution of King Abdullah Economic City, the largest master planned community of its kind in the Middle East region.
Mr Jawa was previously Chairman of Disney Jawa Enterprises, which introduced a range of Walt Disney licenced products to the Middle East region. In addition, he was the Chairman & CEO of Stallions Home Video, which redefined home entertainment in the region, and Coflexip, a joint venture with France's Elf Aquitane, to lay underwater pipes for crude oil distribution.
Mr Jawa holds a Master's in Business Administration (MBA) and a Bachelor of Science in Business Administration from the University of San Francisco. He is fluent in Arabic, English, and French.
Mr. Ahmad Thani Rashed Al Matrooshi
As Executive Board Member – Emaar Properties PJSC, Ahmad Al Matrooshi oversees the day to day operations within Emaar, including government affairs, media, public and community relations.
Al Matrooshi is the Chairman of Emrill Services LLC; Vice-Chairman of Emaar Malls PJSC, member of the Consultation Committee for the Dubai Supreme Council of Energy, a member of the Committee at UAE Council of UAE companies invested abroad. In addition, he holds memberships to several important organisations.
Before joining Emaar in November 2005, Al Matrooshi held the position of Chief Executive Officer at the government-run Dubai Development Board (DDB) for almost a decade. At the DDB, he ensured affordable housing and competitive financing rates to all residents across the Emirate. Before this move, Al Matrooshi was Deputy Director of the Dubai Chamber of Commerce & Industry for 14 years.
Born and brought up in Dubai, United Arab Emirates, Al Matrooshi holds a Bachelor of Arts in Public Administration and a Diploma in Property Management from NCFE – UK.
Mr Jassim Mohammed Abdul Rahim Al Ali
Mr Jassim Mohammed Abdul Rahim Al Ali is the Chief Executive Officer of Al Ali Property Investments (API). He has gained experience in planning, construction and development of the family assets.
He is also the Chief Executive Officer of API Hotels and Resorts and works with Accor and IHG.
In 2006, Jassim finished his Bachelor's in Business Administration from the American University of Sharjah (AUS). After graduation, Jassim joined his family business – API, in 2006 as the Commercial Director. During his tenure, he worked on numerous projects and is currently accountable for over 50 property assets in the UAE.
Jassim, an out-of-the-box thinker and innovator, keeps himself updated by investing his time in books, current global affairs, and the market economy.
He is a true visionary for tenants residing in his properties, aiming to deliver a change from the traditional way of living to a unique experience by introducing technology and new ways of making life as a tenant better.
H.E. Eng. Sultan bin Saeed AlMansoori
H.E. Eng. Sultan bin Saeed AlMansoori Minister of Economy
His Excellency Sultan Bin Saeed Al Mansoori has been appointed as Minister of Economy in the UAE, effective 17th of February, 2008. His Excellency Sultan holds a Bachelor's degree (B. Sc.) in Industrial Engineering & Management Systems from Arizona State University – USA. He also has a Diploma in Computer System Analysis from the Institute of Computer Technology, Los Angeles, California – USA.
In addition to his position as Minister of Economy, His Excellency Sultan holds the positions below :
• Chairman of the Supreme Committee for Consumer Protection
• Chairman of the Coordinating and Economic Cooperation Committee
• Chairman of the National Committee for the Follow-up Program of Investment Climate
• Chairman of the UAE International Investors Council
• Chairman of The UAE SME Council
• Chairman of the Board of Directors of the Securities and Commodities Authority
• Chairman of the Insurance Authority
• Chairman of the Federal Civil Aviation Authority
• Chairman of The Dubai Islamic Economy Development Centre
• Chairman of The Emirates Authority For Standardization & Metrology
• Chairman of CSR UAE Fund Board of Trustees
• Member of Education and Human Resources Council.
• Member of the Ministerial Committee for Legislation
• Member of the National Committee on Population Composition
• Member of the Committee of Finance and Economy
In addition to his position, His Excellency Sultan holds the previous positions below:
• Senior Airport Coordinator, then Vice President Operations at Dubai Civil Aviation Authority during the period of 1988 – 1991
• Director – Dubai Cargo Village during the period of 1991 – 1996
• Deputy Director-General – Dubai Chamber of Commerce & Industry during the period of 1996 – 1998
• Group Managing Director of Saeed & Mohamed Al Naboodah Group during the period of 1998 – 2004
• Vice President of Dubai Islamic Bank during the period of 1999-2008
• Chairman of Aman (Dubai Islamic Insurance Company) during the period of 2002-2008
• Minister of Transport and Communications during the period of 2004 – 2006
• Minister of Government Sector Development during the period of 2006 – 2008
• Member of GCC Consulting Authority for Supreme council.
Mr. Helal Saeed Salem Saeed Almarri
His Excellency Helal Saeed Almarri has been Director-General of the Dubai Department of Tourism and Commerce Marketing (DTCM) since 2013. He is a member of the Executive Council of Dubai, a member of the Board of Directors of the Investment Corporation of Dubai, and the Director-General of the Dubai World Trade Centre Authority (DWTCA).
The Dubai Department of Tourism and Commerce Marketing (DTCM) is the government authority responsible for continuously furthering Dubai's position as a leading global tourism destination and business hub. In his capacity, Almarri is accountable for the planning, oversight, and delivery of Dubai's vision and aspirational targets for the sector. His mandate also includes a strategic focus on driving sustainable tourism – contributing to the economic development of the emirate of Dubai and ensuring that tourism as a sector with all related adjacencies is effectively growing their contribution to Dubai's GDP.
Almarri's responsibilities span both leisure and business aspects of the city's value proposition. His role entails enhancing Dubai's positioning as the preferred international hub for the global business community to network from, establish and expand their presence in, and service the broad range of markets across EMEASA. To facilitate delivery, he is equally responsible for forging collaborations and partnerships across the industry ecosystem globally and Dubai government, private and public sector stakeholders.
Helal Almarri also heads up the DWTCA, which encompasses the UAE's leading event venue and the largest event and exhibition centre in the region. He is responsible for developing the centre's strategic and development plans to position Dubai as a leading global MICE-destination. In his capacity, Almarri is mandated to manage various sides of the business including exhibitions and conferences; real estate; and hospitality – all collectively driving towards the company's growth strategy in line with Dubai's vision to create a global platform for business tourism, as mandated by His Highness Sheikh Mohammed bin Rashid Al Maktoum, Vice President and Prime Minister of the UAE and Ruler of Dubai.
Almarri also serves as a member of the Supreme Committee of the Expo 2020 and board member at the Dubai Chamber of Commerce and Industry, Emaar Malls PJSC and Taaleem PJSC.
Helal Almarri holds a Master of Business Administration (MBA) degree from the London Business School (LBS). Almarri is a Chartered Accountant from the Institute of Chartered Accountants in England and Wales and previously worked at consulting firms McKinsey and KPMG.
Mr. Buti Obaid Buti AlMulla
Mr Buti Obaid Almulla is Chairman of Mohamad and Obaid Almulla Group, a Dubai-based family-owned business launched in 1942, and a market leader in key strategic economic sectors: Hospitality, Healthcare & Pharmaceuticals, Real Estate, Travel & Tourism and Investments.
He has extensive professional business experience that spans over 31 years (since January 1990) across the banking, finance, real estate, hospitality, and investment sectors. Born in 1967, Mr Almulla holds a diploma in business administration from Newberry College, Boston.
He holds several esteemed positions, Chairman – Dubai Insurance Company PSC, Vice Chairman of Emirates Islamic Bank PJSC, Director of Emirates NBD Bank (PJSC), and Director of Dubai Refreshment PJSC.
Ms. Eman Mahmood Ahmed Abdulrazzaq
As Group Chief Human Resource Officer and Executive member of Emirates NBD Group, Eman Abdulrazzaq is responsible for over 26,000 employees across nine countries. Eman has been instrumental in leading a dynamic and proactive working practice cultural change and driving Future Skills development to reskill and build out an agile workforce that can embrace the developing digital landscape.
Before joining Emirates NBD, Eman was Regional Head of Strategy and Chief of Staff for HSBC Bank Middle East Limited for the Middle East, North Africa and Turkey (MENAT) countries. She also had responsibility for overseeing Sustainable Finance.
She started her career with HSBC originally as a Corporate Banker before moving to Human Resources where she led the function through several complex change programs including the implementation of new technology, which led to a significant cultural change and new ways of working for both HR and its customers across the MENAT region.
When her role at HSBC expanded to include Chief of Staff and Strategy and Planning, she was a trusted advisor to the Chief Executive Officer, MENAT, leading on the delivery of several strategic programs with a focus on growth acceleration to deliver increased business and revenue growth. Globally connected, Eman also worked in close partnership with Senior Management in the HSBC Group to manage M&A transactions in the region and successfully drive growth across the region, enhanced by her ability to build strong external stakeholder, customer, and regulatory body relationships.
Eman is currently the Chairperson of the UAE Banks Federation (UBF) HR Committee and has worked closely with regulators and central banks on introducing sound remuneration policies across the UAE, Bahrain Oman and KSA. Eman has been appointed as a Board member of Dubai Refreshment P.J.S.C. She was also previously a board member of the HSBC Middle East Finance Company.
Eman has been a board member of Emirates Institute for Banking and Financial Studies (EIBFS) where she played a key role in encouraging and supporting the youth of the UAE to pursue careers in banking and finance. Throughout her career, Eman has continued to mentor and coach numerous individuals and is passionate about developing Emirati talent in the corporate world.
Eman has spoken at various public forums on topics as diverse as regional economics and unconscious bias in the Workplace and was a speaker on Future Skills in the Workplace at the World Economic Forum at Davos in 2019 and a keynote speaker at EXPO 2020 on Tolerance and Inclusion.