Emaar Development Management
EXECUTIVE TEAM
With over 20 years' experience in finance, accounting, budgeting, planning and reporting, Sunil Grover leads the finance team at Emaar, joining the company in 2008. His favourite part of the job is daily decision-making and solving conundrums.
Grover is a tri-lingual Certified Public Accountant from American Institute of Certified Public Accountants (AICPA) and a certified Company Secretary from the Institute of Company Secretaries of India (ICSI). His focus on continuous self-improvement has provided him with a steady career growth at Emaar spanning over two decades, ever since joining as a fresh graduate.
When not busy at work, Sunil Grover enjoys spending time with his family.
With extensive experience in supporting Emaar's international project development portfolio, Fadi El Borno leads the Joint Ventures division at Emaar Properties.
In his role, Fadi is responsible for the end-to-end management and execution of Emaar's joint venture projects with Dubai World Central (DWC) and Dubai World Trade Center (DWTC).
Fadi will work closely with various departments including development and projects, sales & marketing and finance to successfully deliver project completion and profitability against set targets.
Fadi joined Emaar in 2004, and was most recently overseeing the operations of Emaar Middle East in Saudi Arabia.
Fadi has hands-on experience in master-planning, strategic planning, business development and partner relationships. He played an instrumental role in developing the concept of King Abdullah Economic City, one of the largest real estate developments in the region by Emaar, The Economic City.
He also worked for two years with several consultants on the Emaar Group strategy, which was later approved by the Board of Directors.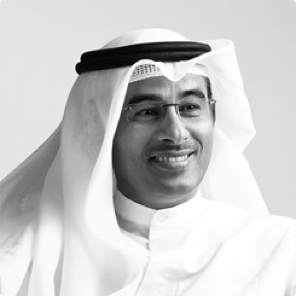 H.E. MOHAMED ALI RASHED ALABBAR
-
Mohamed Ali Alabbar
Founder & Managing Director of Emaar Properties, Founder & Director of Noon.com,  Chairman of Eagle Hills, Chairman of Americana Group.
Mr. Mohamed Ali Rashed Alabbar is a global entrepreneur with active interests in real estate, retail, hospitality, e-commerce, technology, logistics, F&B and venture capital.
Experience
Since 1997, he has been at the forefront of global real estate, leading marquee real-estate development companies such as Emaar Properties (developer of world's tallest building) and Eagle Hills (leading emerging markets real estate developer). He has spearheaded the growth of Emaar Properties attaining unmatched track record of successfully developing iconic futuristic residential, retail, entertainment, hospitality & leisure assets transforming the lifestyles of people globally. Over the years he has developed world-class mixed used projects, including his retail businesses, across 20+ markets of Middle East, North & Sub Saharan Africa, Central & Eastern Europe and South & South East Asia and US.
Business Acumen
In addition, he has driven the growth of several regional players into world-renown sector champions including Americana Group (a multibillion-dollar food business, the largest integrated food company in the Middle East) and noon.com (the leading e-commerce platform in the region). He is also shareholder in Artstreet Limited which owns interests in real estate business. He is the Chairman of Zand, one of the world's first combined digital corporate and retail bank to launch from the UAE.
Education
A graduate in Finance and Business Administration from the Seattle University in the US, also holds an Honorary Doctorate from Seattle University, an Honorary Doctorate from London School of Economics and Political Science and an Honorary Doctorate from Sun Moon University in South Korea.
Adnan Kazim is currently the airline's Chief Commercial Officer reporting to the President of Emirates Airline.
He leads Emirates' Commercial Operations across the airline's vast network of nearly 160 destinations in 86 countries including major departments in Dubai such as e-Commerce, Retail & Contact Centres, the Emirates Skywards loyalty programme and Emirates SkyCargo.
He also heads the airline's Strategic Planning and Revenue Optimisation teams, which are critical functions and his teams play an integral role that support the airline's commercial success.
Adnan joined Emirates in 1992.  His career graph rose quickly, and he went on to successfully lead the airline's commercial regions being appointed in senior management roles that included Senior Vice President Gulf, M.E. & Iran and Senior Vice President Africa.
His vast experience helped him transition into a leadership role to shape the airline's strategy of growth in the areas of fleet planning, market expansion and governmental relations. He most recently held the role of Divisional Senior Vice President, Strategic Planning, Revenue Optimisation & Aeropolitical Affairs.
Adnan graduated from the UAE University in Al Ain.
Adnan is on the Board of Emirates Airline Foundation, a non-profit charity organisation which aims to improve the quality of life for children and the dignity of children caught in extreme poverty worldwide.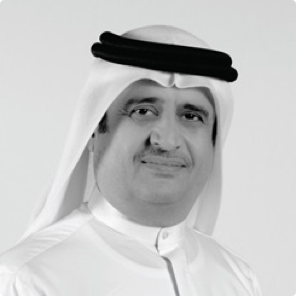 MR JAMAL MAJID BIN THENIYAH
Mr. Jamal Bin Thaniah, born in 1958, holds a bachelor degree in Public management.
Mr. Bin Thaniah joined Port Rashid in October 1981 and have progressed through the management up until May 1991 when Dubai government merged port Rashid with Jebel Ali port under Dubai Ports Authority (DPA) and he has been appointed as Assistant Managing Director.
In the year 1999, one of the first initiatives of Mr Bin Thaniah along with DPA chairman in the international port operation market encompassing, Beirut, Djibouti and Jeddah led to the creation of Dubai Ports International (DPI).
In 2001 he has been appointed as a Managing Director to master plan the development of Jebel Ali as one of the biggest terminal in the world increasing its capacity from 20 million TEUs at that time to 50 million TEUs.
In 2004, Bin Thaniah played a major role in the acquisition of Sealand world terminals to give DPI a real international footprint.
Jamal Majid Bin Thaniah is the Co‐ Founder of DP World, the 4th largest port operator in the world with a capacity of 100 Million TEUs as in the year 2006, DPI conclude the acquisition of P&O Ports to become the 3rd largest port operator in the world and DPW was created to become a real international port operator company worth USD 22 billion.
In 2006 Bin Thaniah has been appointed a Vice Chairman and GCEO of Ports & Freezone world, which include DP World, Freezone world and P&O Ferries until his retirement in January 2017.
In 2008, following the global crisis Bin Thaniah led the restructuring of Dubai World, a conglomerate in the real estate (Nakheel), private equity (Istithmar) and Dry dock world.
Since 2012, Mr. Bin Thaniah sits as an independent member on the board of Directors of Emaar Dubai, and having previously served as a board member in different entities.
In Sep 2017, Mr. Bin Thaniah was elected as a non‐executive board member of Emaar the Economic City. Mr. Bin Thaniah is a regular speaker in international ports and maritime conferences and is amongst the few winners of 3 international prestigious awards:
In 2006 he won Lloyds list personality of the year,
In 2007 he won the personality off the year by Sea trade,
In 2010 he won the highest lifetime award by sea trade '' the life time achievement award''.
He is known and well respected by the major international ports operators and the shipping lines and has the knowledge of developing large scale port operation and logistic zone including the business knowledge process in the shipping line routes and rotations.
MR AHMED JAMAL HASSAN JAWA
Chairman, President & CEO, Starling Holding Limited
Mr. Ahmed Jawa embodies the Middle East's success story. As Chairman, President & Chief Executive Officer of Starling Holding Limited, Mr. Jawa has continually set business and entrepreneurial excellence standards.
The renowned Saudi Arabian entrepreneur established Starling Holding, an international investment group dedicated to private equity and venture capital, just after graduating from college, when private equity was in its infancy in the Middle East region.
Mr. Jawa's impeccable corporate expertise in oil and gas, healthcare, hospitality, home entertainment, and real estate development helped grow Starling Holding into a global investment leader, with business interests in the Middle East, Europe, USA, North Africa, and South Asia.
His business acumen was recognised in 1996, at the highest level, when he was honoured as one of the 'Global Leaders of Tomorrow' at the World Economic Forum in Davos, Switzerland.
Mr. Jawa's expertise and entrepreneurial skills have seen him become a trusted advisor for global companies that operate in the Middle East.
He is the Vice-Chairman of Emaar Properties, the developer of global icons including Burj Khalifa and Downtown Dubai, and Chairman of its Emaar Properties' Investment Committee and Risk Committee. He is also a member of its Audit Committee, offering advice on Emaar's global expansion plans.
Mr. Jawa is also a Board Member of Emaar Development, the leading developer of residential and commercial build-to-sell assets in the UAE, and a member of its Investment Committee and Nomination & Remuneration Committee.
Mr. Jawa is Chairman of Emaar Middle East (KSA), developer of high-value projects in the Kingdom of Saudi Arabia.
In addition, Mr. Jawa is the Chairman of Emaar Turkey and serves on Emaar Misr's board in Egypt. He is also the Chairman of its Audit Committee and a member of its Investment Committee.
He is on the Board of RAK Petroleum, an Oslo Børs-listed oil and gas investment company and serves as the Chairman of its Audit Committee.
Mr. Jawa is also on the Board of National Pipe Company Ltd (NPC), a joint-venture between Saudibased enterprises and Sumitomo Corporation Group of Japan that manufactures and supplies quality pipes for the oil, gas, water and construction services.
He is a former member of the Board of 'Emaar, The Economic City' and its Nomination & Remuneration Committee. A public joint-stock company listed on the Saudi Stock Exchange (Tadawul), 'Emaar, The Economic City' is undertaking the modernisation and execution of King Abdullah Economic City, the largest masterplannned community of its kind in the Middle East region.
Mr. Jawa was previously Chairman of Disney Jawa Enterprises, which introduced a range of Walt Disney licenced products to the Middle East region. He was the Chairman & CEO of Stallions Home Video, which redefined home entertainment in the region, and Coflexip, a joint venture with France's Elf Aquitane, to lay underwater pipes for crude oil distribution.
Mr. Jawa holds a Master's in Business Administration (MBA) and a Bachelor of Science in Business Administration, from the University of San Francisco. He is fluent in Arabic, English, and French.
Mr. Ali Ibrahim holds the distinguished title of Deputy Director General for Dubai Economy and Tourism, previously known as the Department of Economic Development. His primary duty is to elevate the emirate's position, ensuring Dubai remains at the cutting edge of global standards across its economic, social, and cultural endeavors.
In addition, Mr. Ibrahim keeps a close eye on regional and worldwide economic trends to ensure Dubai remains competitive. He's in charge of managing surveys and disseminating vital economic data and business statistics for the region.
Notably, Mr. Ibrahim played a pivotal role in crafting the Dubai Strategic Plan from 2007-2015 and led the team in refining its economic strategy for 2013-2015.
Starting his professional journey in 1983 with the UAE Central Bank in Abu Dhabi, Mr. Ibrahim swiftly climbed the ranks, ultimately serving as the Assistant Manager for Research and Statistics. After moving to DED in 1993, he undertook several leadership roles, spanning from studies and planning to commercial registration.
In his current roles, Mr. Ibrahim helms Amlak Finance and is a key figure in boards like Emaar Industries and Investment and Emcredit. His past associations include esteemed positions at the Dubai Financial Market, Supreme Insurance Committee, Emaar Financial Brokerage, and the Commercial Agencies Committee.
Furthermore, he guided the Economic Development Committee as its General Coordinator under the Executive Council of Dubai and provided his expertise to the Dubai Islamic Economy Development Centre.
On the educational front, Mr. Ibrahim holds a bachelor's in business administration and English language from the UAE University. He's a regular presence at global events and has fostered collaborations with prestigious organizations, including the International Monetary Fund. He's also among the first graduates of the Government Leadership Programme at the esteemed Mohammed Bin Rashid Centre for Leadership Development.
With more than three decades of experience in port and terminal operations and management, Mohammed Al Muallem has led the growth and development of the region's most important seaport, Jebel Ali Port through a period of major expansions, defining and driving its strategic vision.
Al Muallem was appointed Chairman of the Executive Merging Team of Dubai Ports Authority, Dubai Customs and the Free Zone in 2000 and in 2004, Executive Coordinator for the Terminal 2 development at Jebel Ali Port.
In 2005, Dubai Ports Authority (DPA) and Dubai Ports International (DPI) merged to form DP World, and Al Muallem was appointed as the Senior Vice President (SVP) and Managing Director (MD) of DP World, UAE Region.
Al Muallem assumed the position of Chief Executive Officer and Managing Director of DP World, UAE Region and CEO of Jafza in 2017 to lead the smart trade enabler's key assets and companies under Ports and Terminals, Parks and Zones, Trade Enablement and Security Solutions in the UAE.
In 2021, Al Muallem took on the role of Executive Vice President of DP World to work closely with Sultan Ahmed Bin Sulayem, Group Chairman and CEO of DP World, to provide key leadership and explore a new world of opportunities for DP World's global portfolio.
Mohammed Al Muallem holds a Bachelor of Science in Industrial Engineering from the University of Portland, Oregon, in the US. He has completed extensive training at the University of Manchester, Cranfield College, in the UK.
Dr. Ayesha Binlootah is a highly accomplished and self-driven leader with over 14 years of diverse experience in Licensing, Supervision, Assurance, Inspection, Internal Audit, Risk Management, Information Security, Internal Control, Excellence, Service Improvement, Governance, Business Continuity Management, Crisis Management, and Global & City Crisis Communication. Dr. Binlootah has consistently excelled in steering organizations towards success with a proven track record in various industries, including Financial Institutions, Virtual Assets, Tourism, Hospitality, Economic Development, and the Public Sector.
As an experienced board member, Dr. Binlootah has played a pivotal role at the Institute of Internal Auditors (IIA) – UAE Chapter, chairing several committees and contributing to the record-breaking International Audit Conference. Additionally, Dr. Binlootah has held committee positions as an independent director in publicly listed companies at the Dubai Financial Market (DFM).
Dr. Binlootah holds a Doctorate in Business Administration in Tourism Investments and is a Certified Corporate Governance Practitioner from the UK Affiliation of Corporate Governance Practitioner & COSO Certified. Her academic achievements include executive education from prestigious institutions such as Oxford Said School of Business, London Business School, Jack Welsh Management Institute, and Ashridge School of Business.
Dr. Binlootah has been instrumental in positioning Dubai as a global and regional hub for Virtual Assets, Economic Development, Tourism, and as a Financial Sector Hub and related services.
Prior to this, Dr. Binlootah served as the Portfolio Sponsor for Financial Sector Development at the Economic Accelerator Unit – Government of Dubai, where she contributed to elevating Dubai's financial ecosystem as a global hub for business, in addition to her multiple roles at Dubai government.
Before joining the government sector, Dr. Binlootah gained valuable experience at Dubai Islamic Bank as the Finance & Operations Audit manager, overseeing critical audits and risk assessments, resulting in significant cost savings and operational improvements.
Throughout her career, Dr. Binlootah has been actively engaged in various national federal and international committees, contributing to essential initiatives and government agenda related to anti-money laundering, Combating the Financing of Terrorism, and more.
With her vast knowledge, expertise, and leadership skills, Dr. Binlootah has consistently driven organizations and government entities towards excellence while making valuable contributions to the professional community, private sector, and public sector through her involvement with industry associations and committees.