Elevating the Definition of Luxury
Bayview by Address Resorts at Emaar Beachfront
Ethereal waves adorn stylishly crafted façades reflecting the Arabian Gulf's rippling waters.
A luxury vocabulary inspired by the splendour and glamour of Dubai, translated in the smallest details, inside and out.
Exquisite facilities inspired by Emaar's mastery of fine living in branded apartments and penthouses, luxuriously furnished and tailored to your needs.
Bayview by Address Resort at Emaar Beachfront carries the future in its details and promises a life that will fulfil your dreams of luxurious living by the sea and unparalleled modern opulence; a one-of-a-kind opportunity to celebrate the Dubai Life in the city's most exclusive coastal development.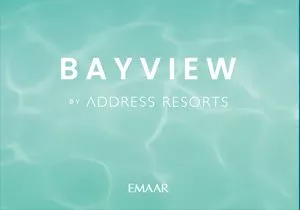 Download Brochure
Transcending the Exceptional
Bayview by Address Resorts combines the aspirational dream of high-end beachfront living with the sophistication of urban cool, incredible design flair and unrivalled levels of finish. The Dubai glamourous style cannot be easily defined through aesthetics. It is more a way of life: carefree and full of vigour. At Bayview by Address Resorts, it is experienced both indoors, through texture and natural materials; through outdoors, and spaces that extend your home.
Exquisite Quality
Bayview by Address Resorts provides a variety of apartment types and sizes ranging from one to three bedrooms, with majestic views, all fully furnished and bearing the prestigious Address Resorts brand of luxury. The exceptional coastal location and architectural vision allow residents to enjoy beachfront living in a serene and relaxed atmosphere. The apartment layouts lend themselves to a timeless lifestyle with their flowing design, expansive living areas, and thoughtfully chosen natural materials and rich finishes. Stylish elevators, security, controlled access, a vast prayer room and a first-class parking facility come together to provide complete peace of mind and privacy.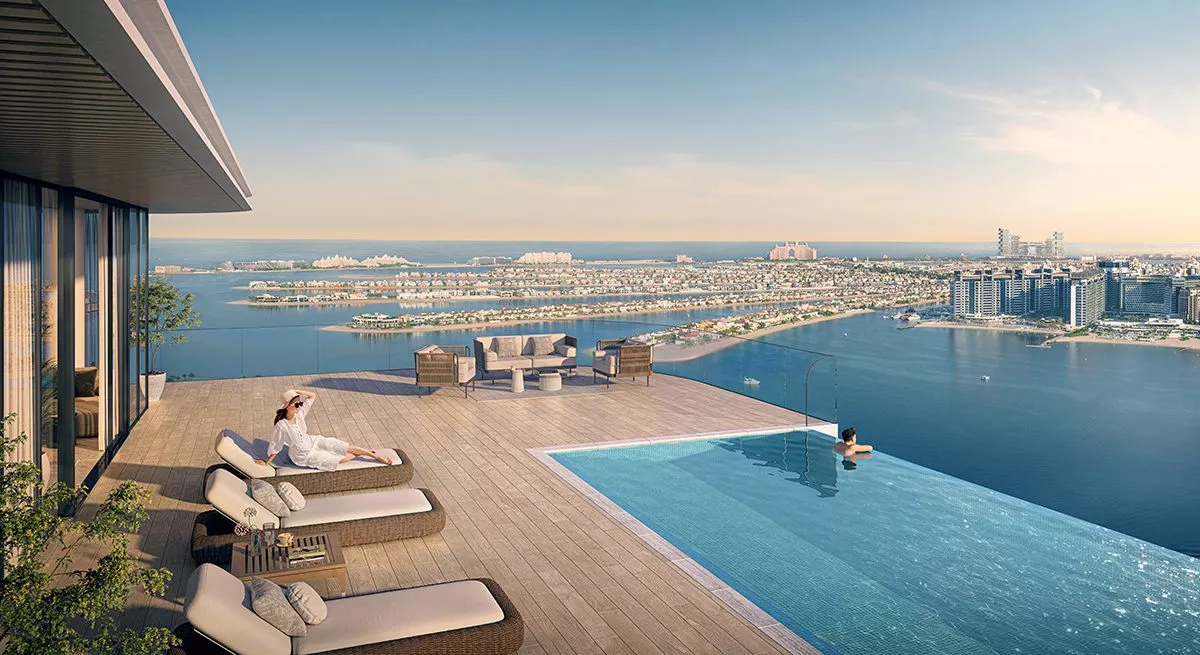 The Project
Bayview by Address Resorts at Emaar Beachfront
Penthouses are the crowning achievements of richly rewarding lives. Placed at the very top of the gracefully designed towers, you will find the highest heights of Emaar Beachfront's lifestyle. The Bayview by Address Resorts 5-bedroom penthouses are the epitome of premier sky-rise living, a canvas of dazzling opulence on the Arabian Gulf's horizon. Four unique penthouse residences defy all expectations with 360-degree views and the design of contemporary beach estates. The finest interiors and materials blend flawlessly with elegant design, to create a haven for ultimate luxury in the ultimate destination.
1,2, 3 & 4 Bedroom Apartments

4 & 6 Penthouses

Starting price 3.3M AED
Gallery
Endless Beauty
Magnificent panoramic exposures wrap around all sides of Bayview by Address Resorts granting 360-degree views. Full perimeter balconies extend the living room and main bedrooms and a state-of-the-art façade design offers the latest shading technique.
Amenities
The amenities podium is a private resident-only sanctuary, cradled by both towers, offering hours of relaxation or recreation under the clear blue sky. A fusion of world-class amenities and stunning outdoor activities, create the perfect 'resort' experience with direct access to ground-level stylish boutiques, cafes, and the thriving promenade beyond.
Infinity Pool

Wet Deck

Shaded Pool Deck

Sun Loungers

Shaded Kids' Pool Area & Play Area

Raised Lawn

Shaded Communal Areas

Bbq Pods

Ground-Level Boutiques & Cafes

Landscaped Garden
REDEFINING PRIVATE BEACH LIVING
Emaar Beachfront
Where the sea greets you every morning, and pristine white sand welcomes you home—on an island with a statement address in Dubai. Awaken your senses with every breath, as you redefine your premium lifestyle, overlooking the majestic Arabian Gulf at Emaar Beachfront.
Beachfront


1.5 km

27


Residential Towers

10,000


Residential Units

13,000 sqm


Retail Mall

Dubai Marina


At Your Doorstep

Sea Views


Apartments Overlooking the Sea

Easy Access


To Sheikh Zayed Road
View Community
Bayview by Address Resorts
Prices From
Area from (Sqft)